Off-plan purchases: Beware "artist impressions"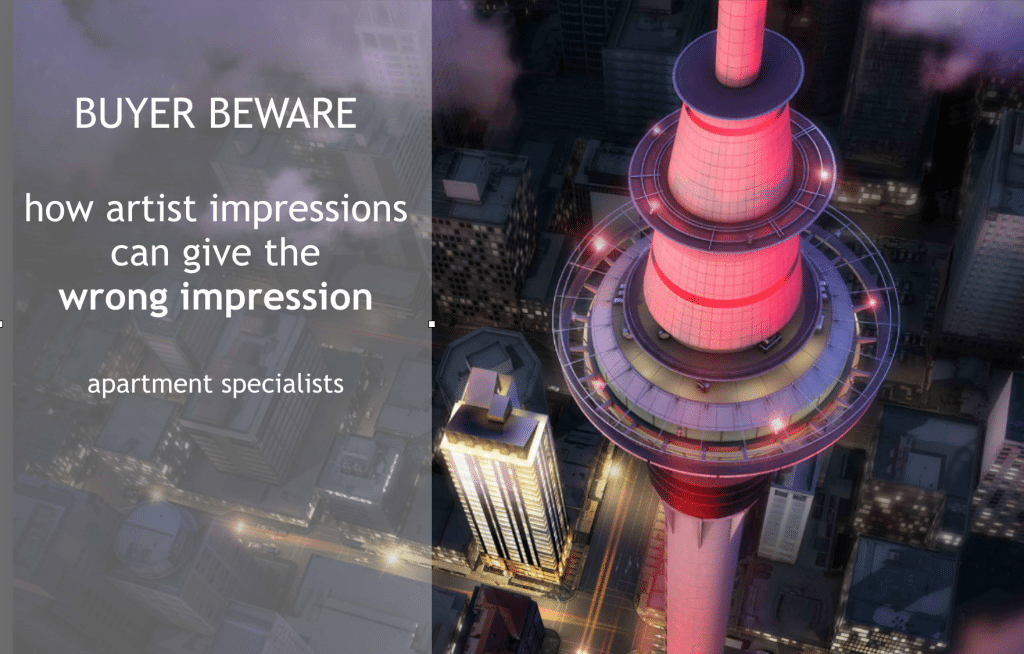 I have rarely seen such an outstanding example of over-exaggeration used to sell a new apartment building as the currently selling Victoria Residences in Auckland.
As I explained to the Stuff journalists
"The new Victoria Residences building, now going up on the corner of Federal and Victoria Streets in Auckland, will be a 25-level tower, but a render of the project shows it soaring about squat buildings that, in reality, include the 17-storey Telco tower."
Take a look at this picture I drew up - the artist impression building picture and the reality.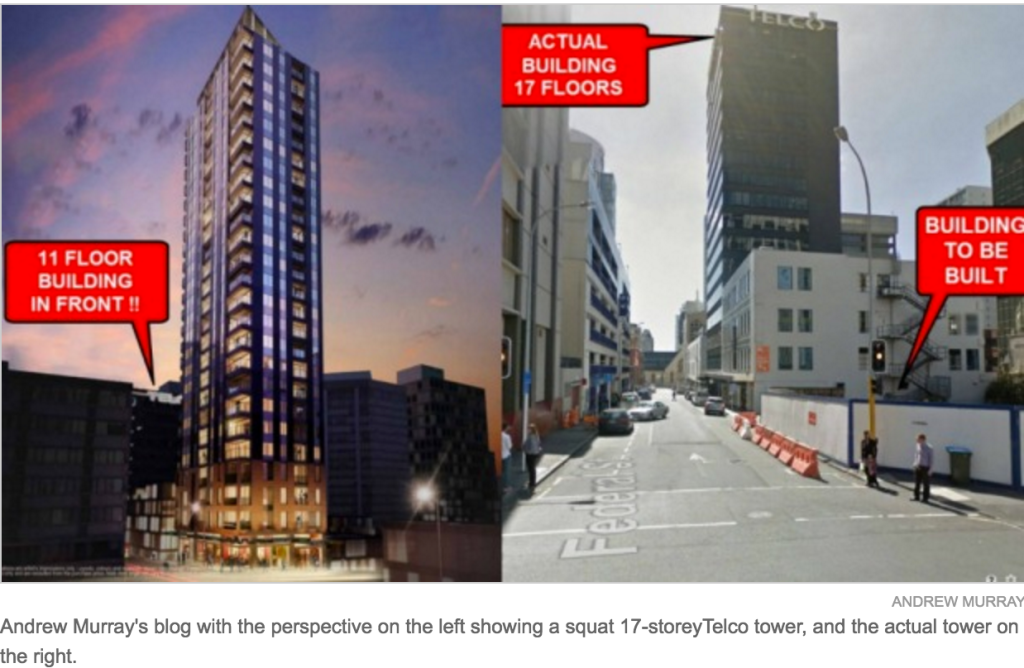 The Dangers are obvious.  If you buy off plan - go and look at the actual site.  As I explained to Stuff
"When walking up Victoria Street, I saw a picture of a project being sold off the plans and I was like, "Hang on, this is just wrong! The images of the buildings in front are made to look much smaller than they really are.

"Imagine buying an apartment off images of a view and then finding out that there was a building right in front the whole time!"
How to avoid getting duped by artists impressions
Here is my advice to everyone who considers buying apartments in Auckland off plan.
Go and Look at the Site Yourself.
Get onto Google Maps and look at the streetview - both sides of the street.  Look at adjacent streets and see where the tall buildings are.
For highrise buildings, also look at Google Earth and click the sun icon to show shadows (here's how to use Google Earth).  This will show you how tall adjacent buildings are.
Also understand my points below about furniture and swimming pools.  Don't get caught out - be the informed buyer.
"I also have a problem with the way some developments show perspectives of amenities, such as swimming pools. I know of one development's lap pool that really can be used by only one person at a time, which is scarcely adequate for a building that will house 1000 people. Yet, the perspectives make it look much larger and show lots of people enjoying the facility.

"The same applies to perspectives showing furniture in a room that can make it look much larger than it is. My advice is to NEVER rely on digital imagery.

Make sure you visit the site; or at least get on Google Maps and see what's around it. For interiors, get the actual dimensions. Measure that out in your own living room."