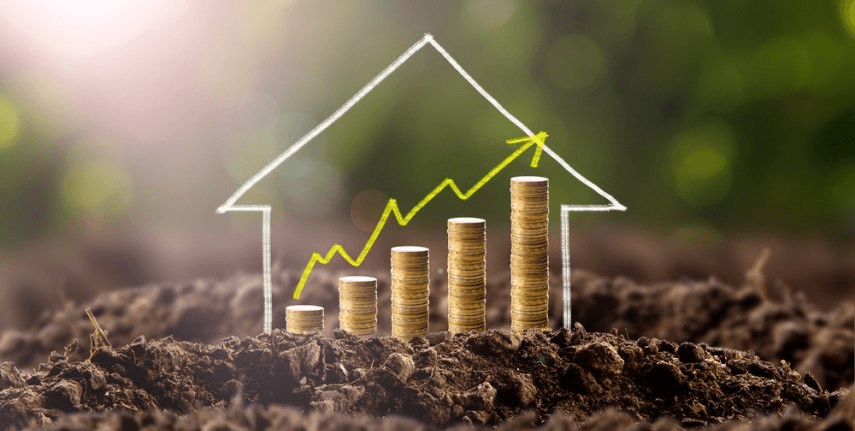 Our CBD has the best outlook for Capital Gain in NZ
Market Update
Our CBD has the best outlook for Capital Gain in NZ
Market Update - March 2022
March 2022
Auckland CBD has a better outlook for capital gain than anywhere else in New Zealand and I'll tell you why.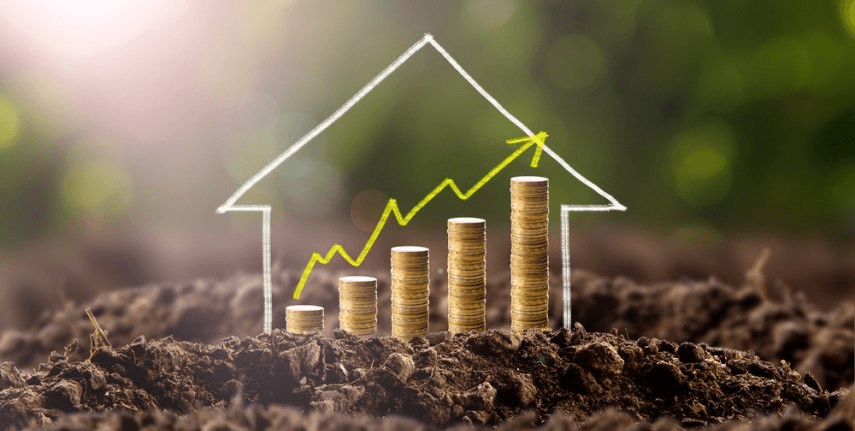 Right now, our Auckland CBD has a better outlook for capital gain than anywhere else in New Zealand. Big call but hear me out as long term all apartment owners will benefit.
So why? Two main drivers will push values higher than we think possible. Even outside the CBD!
DRIVER ONE...RELATIVE VALUE - we are due a catchup.
Over the last 2 years, the average Auckland house price has increased 40%. But our CBD (where 65% of all Auckland apartments are) has not had the same movement. In fact, the lower-end apartment market has decreased in value.
Why?
Is it only houses that went up? No. Apartment values away from the CBD went up at least 25%.
So again why? COVID 19 - a temporary event.
Restrictions due to COVID turned our CBD into a temporary ghost town...causing the CBD to miss out on the biggest property value increase New Zealand has ever seen.
But when our CBD goes back to being New Zealand's largest commercial and entertainment hub where 130,000 jobs remain (7.2% of NZ's GDP) a value balance has to occur. Why?
Opportunity cost.
Every residential property option other than a CBD or close fringe apartment is now 25 - 50% more expensive.
Ok, yes, it's not that simple and I am hearing doubters, as positivity towards our CBD is at its lowest right now?
But this is the reason for the value imbalance. This will fade.
Yes, we will be forever changed due to COVID. Working from home one or two days a week has become the norm and the CBD needs tidying up. There has been a permanent change, but the CBD will adapt and recover and this leads into my second driver which proves this very point and then some.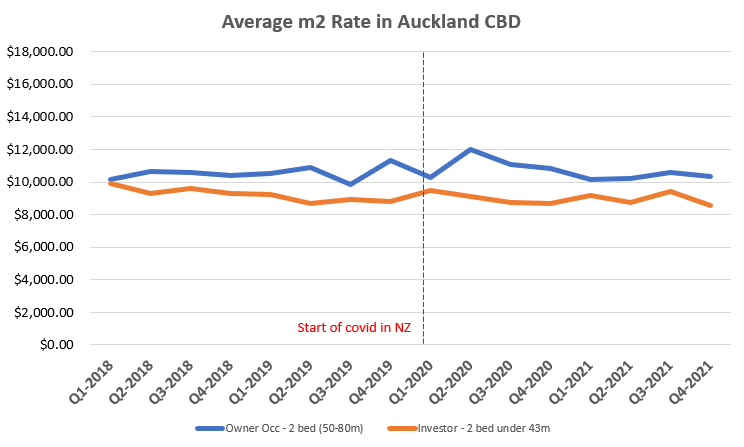 Above I have graphed two categories of the existing apartment market to show the CBD value trend over the last two years.
My objective was to show how values haven't changed like other suburbs. The two categories I chose show where the greatest number of comparable sales lay consistently over these two years.
Why just two categories and not the market as a whole? Singling out apartment categories gives me the ability to show you meaningful analysis. I.E Including a $15,000,000 penthouse, a $200,000 student shoebox and a $45,000 leasehold apartment in the same data set is a waste of time. (Unfortunately, this is the analysis you would typically see in the papers and reported by other organisations).
P.S This is why I continue to bang on about apartment categories when assessing the apartment market in all areas of Auckland, as putting all apartment values under one banner doesn't show an accurate picture.
DRIVER TWO... $10 billion invested in the CBD from 2018 to 2028
From 2018 to 2028, approximately $10 billion will be spent to develop infrastructure, public spaces and new developments in the CBD. The most expensive facelift for one suburb in the history of New Zealand.
What caused Te Atatu property to move up substantially more (300% est.) than other similar suburbs (~200% est.). - Council Infrastructure spending on motorways.
Same with Mt Albert at 300% - Why? The Waterview tunnels.
Spending money on infrastructure, public spaces, and new development increases property values. This is a well-established fact and the single reason the council is looking to increase rates on properties that directly benefit from future improvements when wishing to raise funds.
The 10-year facelift.
Infrastructure - 10's of thousands of more people brought into the CBD each day.
City Rail loop - Britomart Station, Aotea Station, K Rd Station, Mt Eden Station (4.5 billion - 50% complete)
6 Ferry berths and new Ferry station. (complete)
New Central bus station - Albert Street (Albert Street still blocked)
Queen Street, Quay Street, Federal Street, High Street, Victoria street - (In progress)
Formation of Cycleways from all suburbs leading in the CBD. (In progress)
New pathed walkways and pavements throughout the CBD. (In progress)
CBD improvement - Creating a better experience which the private sector will further build on.
Street enhancement - Federal Street (50% complete). Quay Street. (complete), Queen Street (work in progress), High Street - 50%, Albert Street (25%)
Squares - Downtown square, Freyberg Square, (complete), Aotea Square area (40% including private), Waterfront upgrade. (complete)
Green belt - Vicky Park to Albert Park-Victoria Street East transformation. (Starting soon)
Britomart (90%)
Wynyard Quarter (50%)
Private Sector
Commercial Bay ($1 billion)
Convention Centre ($700mil)
20 new hotels - Intercontinental, Holiday Inn, Grand Chancery, DoubleTree by Hilton plus many more.
Fonterra Office, Bayley's Office, Kiwi Bank Office, Fidelity Office building (all recently complete)
Alberts, 650mil Mansons Albert Street, 1 Queen Street, 35 Graham Street (all started but not complete)
+ 10 more large, planned projects which haven't started yet and not included in the $$ amount.
High-End 2000 resident injection
Pacifica (280 complete), International (90 complete), Wynyard Quarter - 132 / Central / Madden (Complete)
51 Albert (30), Seascape (221), CAB (115) + 5 smaller Boutique complexes. (In progress).
Most people aren't aware of just how big this transformation is. There are still so many developments I haven't included that are being planned which have not broken ground...yet.
I.E Future development of Aotea Square and the surrounding area, two other buildings as high as the Sky Tower totaling $1 billion and a $500m development above the Aotea Station are a few examples.
Can I say there is definite growth ahead?
Spending money doesn't always mean a place will be better off or that values will increase. Councils - or the public sector in general - do often get it wrong!
But my answer to this question... what about the private sector?
There are over 30 plus international companies investing huge sums of money into Auckland CBD all betting on its future. Some 100's of millions of dollars!
These are some of the best minds...and spotters of opportunity in the world who have all done this before all around the world. This is not their first rodeo and they are looking globally for the best return. They have all chosen Auckland.
Would they still have done this if they knew that COVID 19 was coming?
I would estimate over 2 billion dollars worth of projects that hadn't broken ground, now have. They could have all pulled out last year or the year before but they didn't. On the contrary, since COVID began more companies have come to the table, some of which I mentioned above.
They can't all be wrong...well I can't say that, but it's fair to say it's a safe bet that they are not.
Now my apologies for how long this report has gone. As you can see, I get excited just writing about Auckland's apartments' future. I do however realise that many of you don't own apartments in the CBD so I worry that you may have no interest.
But please realise that 65% of all Auckland apartments are in our CBD and a substantial increase in their value will have a huge spill-over effect for all apartment owners. This report also points out for every owner how important categories of apartments are when assessing value.
Now the big question. How long will this take and when do all these improvements turn into value?
That's for next month.
And as always,